Tax Advantages of a Home Purchase.
You can typically deduct or "write off" the following expenses on your tax return once you own a home and have a mortgage:
Mortgage insurance is deductible but this may change (also depends on your income & loan amount)
Property Taxes (typically this is several thousand dollars per year)
If you are having a home built, the interest on the construction loan is deductible
"Prepaid interest" (the interest paid from the day you close on your purchase until the end of that month)
"Discount Points" which are paid to reduce your interest rate, may or may not be deductible (lots of rules on this one; check with a mortgage professional or tax accountant)
Interest you pay every month (this is the largest portion of your mortgage payment and most likely your largest tax deduction)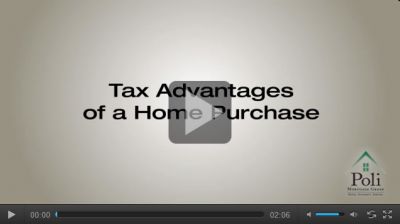 ---
You normally cannot deduct:
Principal you pay on your mortgage
Utilities like water, sewer, garbage, etc.
Homeowners Association Dues for a neighborhood or condo complex
How much do your deductions save you in taxes? Let's look at an example. These numbers will vary based on the specific factors on your mortgage.
For your first year on a $150,000 mortgage you could have these deductions:
About $8,200 in interest payments to write off
$1,500 to $3,000 in property taxes (depending on local tax rates)
$340 in prepaid interest
$750 of mortgage insurance
That's a total of $10,800 to $12,000! With a household income of $60,000, that would lower your taxable income to less than $50,000, saving you $2,750 on your tax bill. That translates to a savings of over $230 a month for buying a home!
"Tax deductions," also called "write-offs," mean you subtract that amount from your income before calculating how much you owe in taxes. A "Tax Credit" is even better, because this is an amount which is taken directly off your tax bill or provided in a refund.
Always discuss tax info with your tax advisor before making any decisions.